MEDIballs Kegels
Be The Boss Of Your Bladder
MEDIball's clinically proven design treats the cause of bladder weakness, rather than just the symptoms.
Shop Now
Clinically proven to treat light bladder leakage.
By wearing MEDIballs for 15 minutes a day you can achieve better bladder control, postnatal recovery and improved intimacy, in less than 3 weeks!
They are designed for comfort and easy to insert.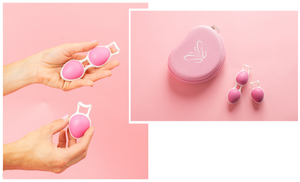 Is MEDIballs Right For Me?
If you are tired of the constant irritation of leaks, or frequent toilet visits then MEDIballs is your long-lasting solution. Suitable for women of any age and ability, it strengthens and re-educates weak pelvic floor muscles that control bladder function.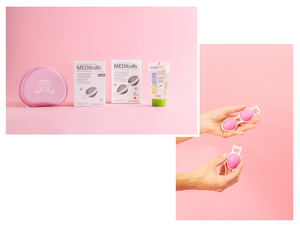 Real talk!
See what Julia, 43 has to say about Pelvi MEDIballs Kegels.
How to use mediballs kegels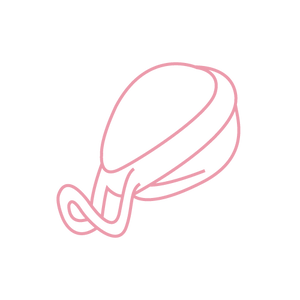 Step One
You begin training your pelvic floor with the MEDIball Single Kegel Weight. Simply holding MEDIballs inside the vaginal passage starts resistance training, no guesswork or tricky exercises required.
Step Two
After training with the MEDIballs Single you progress to the MEDIball Double. This progression differs for everyone, on average most move to the MEDIballs Double after 2-3 months.
More Questions?
E• Class 1 medical device listed with the Therapeutic Goods Administration of Australia.
• BPA, Plastic and Latex Free
• 100% Medical Grade Silkomed TPE
• Clinically and dermatologically tested
• Safe, Durable and German Made
• The MEDIballs Secret method can often produce greater results than alternative products that rely on electronic vibration
The beauty of MEDIballs Secret is that they do not need to be used in conjunction with pelvic floor exercises. Just the use of MEDIballs Secret activates the pelvic floor muscles and encourages the development of strength.
You can use MEDIballs during pregnancy as long as you do not have any complications. Every pregnancy is unique so if you are unsure, please consult your health professional before use.
Yes MEDIballs is made from 100% medical grade TPE with no exposed parts so it is safe to use with the coil or IUD.
MEDIballs Secret works to improve sexual function by increasing vaginal elasticity, strength and sensitivity. As the pelvic muscles strengthen, women develop greater control over their muscle response and ability to contract and control their orgasmic platform.
Once the body grows accustomed to holding the Single for longer than a 10-30 minute period (multiple times a week) without issue, women can feel confident at this point to increase the weight to the Double MEDIballs Secret.
MEDIballs fits gently into the vaginal passage. added to this, the streamlined form allows for easy insertion and removal. MEDIballs's unique design means no strings attached, so the device sits discreetly invisible within the vagina.
Testimonials
I bought mediballs 2 weeks ago and have noticed a huge difference already after using them 5 or 6 times around 10-15 mins each time. I've had 3 kids and my pfm were really bad. I'm really impressed. One thing I wasn't expecting and I'm getting pretty personal posting this! Is that it also makes areas more 'sensitive' so enjoy ;)

Hayley - I'm really impressed
I've been using Mediballs for three months and I am extremely happy with the results. I've even taken up Zumba classes which I never would have been confident enough to do for fear of wetting myself!

Debra - Extremely happy!
Too good to be true......Absolutely Not!!! These are little miracle workers in just a few short days I regained my life, no more nasty coughing mishaps....no more Usain Bolt to the loo either, sooo remarkable I can't praise this product enough you definitely will never regret it but you certainly will if you don't!!!!! Soooo wonderful :)))

Carla - Oh my goodness!!!!
As a 25 year old its important to me that I keep my pelvic floor strong during my younger years to help support me later in life. Mediballs has given me so much confidence that I am supporting myself and my body. My pelvic floor is stronger then every after using the single ball option, I have found my yoga practice has strengthened and even my sex life has become even better. Ladies its time you tried Mediballs, your body will thank you!

Tilly Hall - Big thank you and love your product!