Menstrual Cups
a new approach to period care.
Pelvi Cup is a small reusable menstrual cup that offers a leak and sensation-free period, month after month. 
Shop Now
WHY SWITCH TO A PELVI MENSTRUAL CUP?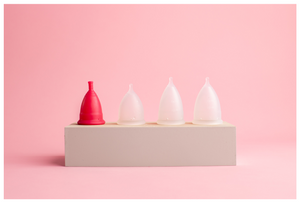 Menstrual Cup Perks
Happy Body
No cramps. No dryness. No irritation.

Got You Covered For 8 Hours
Collects 3 x more fluid than tampons. Wear for 8 consecutive hours, even overnight!
Waste Free
Reuse one cup for 6 years, reducing sanitary waste to landfills.
More Questions?
The Pelvi Cup sits comfortably inside your vaginal canal, and it's 4 suction holes form a seal between the outside of the cup and the walls of your vagina. When inserted correctly the cup naturally stays in place, you will not even notice it is there.
There is absolutely no reason teenagers can't use menstrual cups. Girls can start using cups when they first get their period if they feel comfortable to do so. We recommend starting with the Pelvi Teen Cup as it's been specially designed for younger girls.
During your cycle you sterilise your cup using our TGA approved all-natural Pelvi Wash. Avoid strong cleaners or anything that may irritate your skin if not completely washed off. After your cycle we recommend you place your Pelvi Cup in a heatproof bowl, poor boiling water till covered and leave submerged for 2-3 minutes. You can also rinse your cup using bi-carb soda.
A menstrual cup can not disappear or get stuck inside the vaginal canal. If the menstrual cup has worked its way higher inside the vagina, it's important to relax the muscles as tensing up will only make removing it more challenging. Try squatting and use your abdominal muscles to push the cup downwards until you can reach the stem of the cup. Pull down gently on the stem and pinch the base of the cup to release the suction, and gently ease it out.
If it's inconvenient to get to a sink in a public bathroom, simply wipe your cup with disinfectant wipes then re-insert. If you prefer to rinse your cup, you might consider carrying a small water bottle in your bag to use on-the-go. The most important thing to remember is to always handle your Pelvi Menstrual Cup with clean hands. Once you have access to water rise and sterilise thoroughly.
Though using your Pelvi Cup with an IUD or contraceptive ring should not be a problem, we recommend talking with your health professional before use.
Pelvi Menstrual Cups are designed and packaged in Australia and made in an ISO-Certified facility in the United States.
See what other extraordinary women are saying about Pelvi Cup
Love my new "lady cup" was handy having this option. Highly recommend the pelvi small cup.

Tanya - Great Option
I cannot fault these menstrual cups, after never being able to wear tampons I was very sceptical, however I'm extremely pleased I made the switch! I love that there is other options and for me leak proof now! It took a little practice and a few YouTube demonstrations but I won't go back now!! I can swim, play sports and live my normal life with a period! I bought the two pack which is great value for money. Highly recommend this product. Thanks Pelvi for making life easier at this dreaded time!

Ash - Make the switch
It takes a little getting used to and finding which technique to insert it works best for you but persist with it. It is honestly the best thing I've ever used and only having to change it twice a day is great. I no longer have to worry about sneaking tampons to the bathroom at work or worry about how long it's been in for. I never have to worry about leakage even on my heavier days. I highly recommend to anyone thinking of trying it!

Gemma- Life changing
The pelvi cups are fantastic!! Surprisingly comfortable, and it stays in place without any issues. Using the cup has been helpful in making that time on month less painful.

Jessica Lee M - The cups are fantastic
Thank you Pelvi! Love the cup and the delivery speed was great too. :)

Brooke - Best decision ever!